The event is taking place February 1-4, 2018 at EventCity in Trafford (Greater Manchester) UK.
Tickets available at rollerderbyworldcup.bpt.me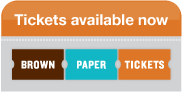 If you have problems with your order, contact Brown Paper Tickets at
1-800-838-3006 US, Canada, Puerto Rico
The third Roller Derby World Cup is taking place at EventCity in Greater Manchester, United Kingdom. This 4-day event is being held 1 February – 4 February 2018 and welcomes 38 women's teams from around the world competing on 4 tracks.
The venue, EventCity, is a huge 16,000 sq. metre [172,000 sq. ft] hosting space, located in Trafford, not far from the internationally renowned Old Trafford soccer venue, home of Manchester United Football Club. The borough of Trafford, part of the Greater Manchester metropolitan area, is well suited to hosting international events as a result, with extensive accommodation and facilities.
All tickets are general admission for all 4 days of the event. Children 10 and under are free (two children per paid adult).
Regular price is $125 USD for all four days (approx. £94.00 before fees). Thursday and Friday single tickets are also available, in advance.
This event will very likely sell out in advance. There will be a limited amount of tickets available at the door each day (including single day tickets).
Schedule: http://www.rollerderbyworldcuplive.com/
Event is expected to begin at 9AM every day and possibly end at 9PM every night. Sunday night may end sooner. Schedule is subject to change.
More information about the event (teams, schedule, etc) will be posted as it becomes available.
Tickets are non-refundable, but you may transfer them (in-full) to anyone. Once the ticket is taken at the door, your wristband cannot be shared. There are no assigned seats and seating is not guaranteed for all games. There will be grandstand and chair seating available but they may fill up during more popular games. There will be additional space to stand or sit on the floor around the tracks. Sorry, you cannot bring your own chairs to the event.
Find us on facebook (facebook.com/rollerderbyworldcup)
and twitter and instagram (@rollerderbyworldcup)
Check out our wonderful hosts, Rainy City Roller Derby at RainyCityRollerDerby.com
Oh, hey! The Official Helmet of 2018 Roller Derby World Cup is S1 Helmet Co.